Posted by Jim Jagielski on Tuesday, August 29. 2006 in Personal
20 years. Today marks Eileen and my 20th wedding anniversary. It seems like only yesterday that we were married.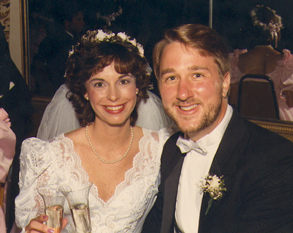 (Note: I've never looked better than in the above picture; but Eileen is more beautiful today than ever) Making it this far is certainly an accomplishment, but the credit doesn't rest just with us. After all, let's be honest, sometimes through no one's fault at all, and despite the best intentions and efforts, sometimes a marriage just doesn't work out. Yeah, we've worked hard on keeping it healthy and loving and alive, but we also know that we've very lucky and blessed as well. There has been good times, and not-so-good ones, but through it it, we've hung onto each other. It's a union that has resulted in a lot of joy, and 3 very fantastic sons. Life is full of choices, and this one was the best one I ever made.
More...
Posted by Jim Jagielski on Friday, August 25. 2006 in Personal
It seems that Robert Hoffman, one of the 3 founders of the National Lampoon
passed away
. For those who only know of the National Lampoon via movies, mainly Animal House, the real genius was in the magazine. I still have several dozens of old, vintage NL mags tucked away in storage, but I keep the National Lampoon 1964
High School Yearbook Parody
on my office bookshelf. Do yourself a favor and try to grab a few off eBay. What's even sadder is that the official
National Lampoon
website has not even a single word about it. Unforgivable. PS: Yes, co-founder Doug Kenney was "Stork" in Animal House.
More...
Posted by Jim Jagielski on Monday, August 21. 2006 in Personal
While I was updating PHP to 4.4.4, I went ahead and upgraded Serendipity to 1.0.1 as well...
More...
Posted by Jim Jagielski on Friday, August 18. 2006 in Personal
Today is my youngest son's birthday. Andrew turns 8 years old today. 8. It's hard because both Eileen and I know that before too long, he's going to be "too old" to want to kiss us goodnight, won't want to sit next to us when we're all watching TV together, won't think it's "neat" to be able to help us cook, things like that. All the stuff you take for granted when they're young. And all the stuff that they want to do, not the stuff you have to ask them to do. My 2 other sons are 14 and 17, so they've long ago past that point. They're (young) men, not "kids" or "boys". I'm proud of how they are turning out, but I also know that they are closer and closer to branching out on their own. All of which makes this phase with your youngest harder than it is with your other children. You see the change, you feel it, but it's not over yet... Your role as parent for that particular child has changed, but not your role in general. Once your youngest reaches that point, however, that whole "kid" phase of being a parent is over. And you know it. It feels kind of good, but in a sad way. That's more common in life than I would have expected.
More...
Posted by Jim Jagielski on Tuesday, August 15. 2006 in Personal
Last week we went away for a week's vacation at our usual spot:
the Outer Banks, NC
. This year we stayed a bit more northern than we usually do, renting a place in Corolla instead of Ocean Sands. It's amazing to see how much it's been built up over the last 16+ years since we first starting vacationing there. It used to be a nice little open secret; now you can't drive I-95 without seeing tons of OBX stickers on cars. Still, it's no where near as crowded as Ocean City, MD, so it's still worth the drive. The weather held out nicely for us, so we had good beach time. The waves were simply OK, but I did manage to get some good body surfing in as well. The rest of the time was spent relaxing and reading, and making a serious effort to avoid opening up the laptop, an effort which I failed at a few times. As usual, there was a nice selection of residential open wireless setups to choose from, so I "borrowed" the one with the best signal and did some minor Email checks. But I stayed on no longer than 15 minutes, closed my iBook and went back to vacation-mode. Speaking of iBooks, I've now determined that instead of getting an upgrade to my existing dual G4 desktop system, I'm going to go ahead and get a
Quad G5
, as soon as I can find some good pricing. I had hoped that Apple's announcement of the
MacPro
would result in some price reductions on the G5s. No luck so far...
More...
Page 1 of 1, totaling 5 entries